Dr. Chahal
Dentist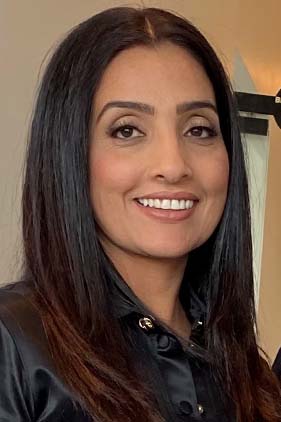 Dr. Chahal obtained her Master of Dental Science specializing in Oral Biology and Periodontology from Boston University's Goldman School of Dentistry, USA. This was after she had completed her Bachelor of Dental Surgery in India. Dr Chahal later went on to teach and complete her Doctor of Dental Sciences degree from the University of Detroit, USA.
Dr. Chahal's passion for Cosmetic Dentistry has motivated her to keep learning by upgrading her skills with certifications from prime international institutions such as University of Toronto, University of Bern (Switzerland) and Harvard School of Dental Medicine as well as making her mark in international practice, research, teaching, and guiding young dentists.
Dr. Chahal has become extensively qualified and experienced in Cosmetic dentistry, Oral Surgery, Implantology and Periodontology and remains an active member of the Royal College of Dental Surgeons of Ontario, the American Academy of Periodontics, the American Academy of Osseo-integration, and the International Team for Implantology. She is also a speaker, an executive board member for the Halton-Peel Dental Association and works as a clinical instructor for Periodontics at the University of Toronto.
While donning many hats as a dentist, mother, wife and daughter, Dr. Chahal effortlessly remains in her best element while at practice. When she's not at the Clinic, she loves to travel with her family. She is an avid soccer and basketball mom who has a flair for gardening and an impressive garden patch to tell.