Dr. Sagun Suri
Prosthodontist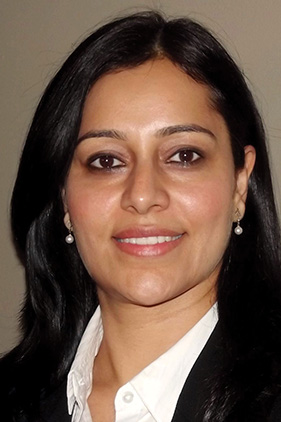 Dr. Sagun Suri is a certified specialist in prosthodontics and has been practicing dentistry since 1999. She completed her bachelor of dentistry studies from the University of Pune, India in 1999. Following graduation, she went to the University of North Carolina at Chapel Hill, USA, where she was an academic scholar in special care and geriatric dentistry and a visiting scholar in surgical periodontics and dental implantology.
Her compassion for individuals facing challenges from partial and complete loss of teeth or tooth structure led her to pursue specialized training in prosthodontics. Dr. Suri completed her prosthodontic training and residency through a MSc in prosthodontics from the University of Toronto. Her specialization training in prosthodontics was based at the Faculty of Dentistry, University of Toronto, with clinical training rotations at Princess Margaret Hospital and Holland Bloorview Kids Rehabilitation Hospital, Toronto. During her specialization, she also conducted award winning clinical research on dental implant outcomes in patients suffering from osteoporosis.
Dr. Suri is also passionate about teaching. During and after her specialized training in prosthodontics, she served as a clinical instructor in the department of prosthodontics at the University of Toronto. Dr. Sagun Suri is a fellow of the Royal College of Dentists of Canada. She is sensitive to the difficulties and the needs of patients with missing teeth, and the value that an optimally functioning, healthy occlusion adds to their lives. It is a pleasure and privilege for her to provide prosthodontic solutions to patients having problems related to missing, discolored and broken down teeth through dental veneers, crowns and bridges, as well as replacement of lost and missing teeth through dental implants.